Tots & Tinies is a toddler and parent/carer group for up to 4 year olds.
It meets in the church hall on Mondays during term-time from 9.30 – 11.30am. There are lots of toys – sit-upons, pushchairs, pretend cooker, push-alongs etc. Activities include Playdough, cutting and sticking, colouring, a sing-song etc.
There are typically about 15 children, supervised by their parent or carer, and a friendly atmosphere prevails.
We have singing just after 10am sometimes followed by a story time. After the sing-song there is a drink and biscuit.
We charge £1 for the first child and 50p for subsequent children. There is no charge for children too young to use the play facilities.
Regretfully there are no parking facilities.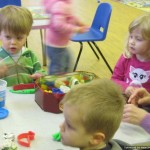 To find out more ring Martin or Gwynn on 01284 705 814,  use the contact form below or you can just turn up any Monday during term-time to the United Reformed Church Hall, Whiting Street, Bury St. Edmunds. IP33 1NR.